Issue Details
Windows could not start the NI InsightCM MongoDB on Local Computer. For more information, review the System Event Log. If this is a non-Microsoft service, contact the service vendor, and refer to service-specific error code 48.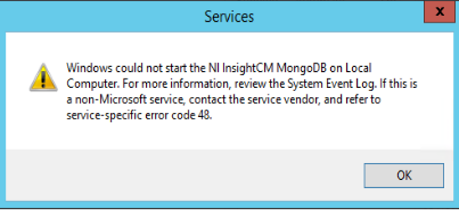 Solution
This could be happening because there are two Mongo services with the same name attempting to run. If the default MongoDB starts before the required NI InsightCM MongoDB, it could cause a services conflict. To solve this, follow the steps below:
Open the windows services.
Look for the MongoDB service.
Right-click and select Properties.
Change the startup type to Manual.
Restart the NI InsightCM MongoDB.